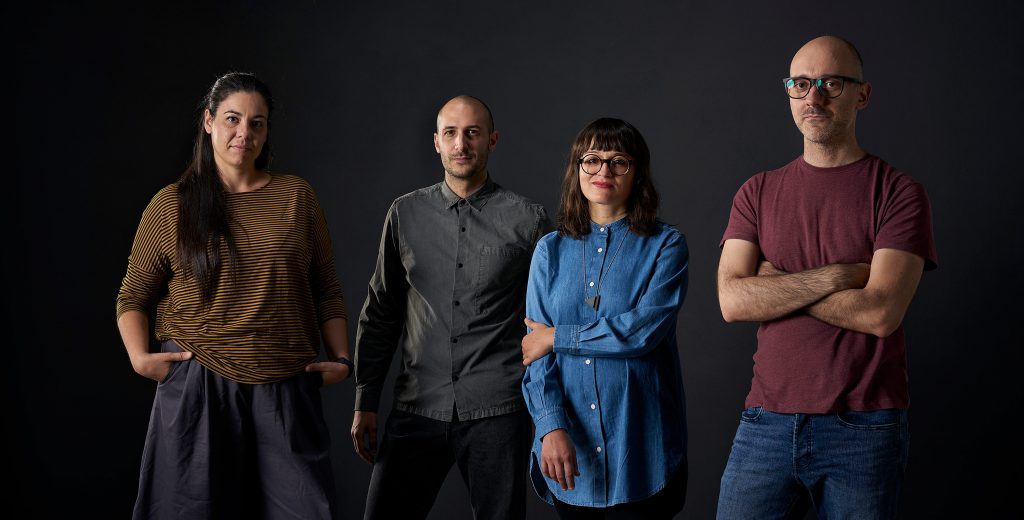 Who we are
We are a creative studio based in Italy, specialized in architectural visualization, born in 2013 and made of a team of passionate guys and girls, including modeling experts, photographers, stylists and render artists.
What we do
Our goal is to provide realistic, artistic driven and heart touching computer generated images, pushing our skills and our imagination always over the limits.
The team
Laura Savelli / Architect, stylist, modeling enthusiast
Silvia Labanti / Architect, render specialist
Sebastiano Marini / CG architect, render specialist
Matteo Morresi / Architect, 3d generalist
Angelo Ferretti / Founder, art director
Clients
Natuzzi Italia / Fondazione Fendi / Powerhouse Company / Accademia Nazionale di San Luca / Università degli Studi RomaTRE / Ceramica Catalano Spa / Angelini Pharma / Arata Isozaki & Andrea Maffei Associati / Stiphany Sowell Architecture + Urbanism / OOF.se / Swiss Sense / Binini Partners / Dental Art / In3D for Scientists / MHP Media / Modo Fotografia / Edelweiss Real Estate / Gruppo Castaldi / Mecaer Aviation Group
Something about us
Our images are always the result of teamwork. Laura is a talented 3d modeler, interior design lover and master in creating complex materials and shaders. Silvia is a specialist in large-scale architectural render as well as a skilled architect, which makes her a strong supporter in our team. Sebastiano loves to make stunning and unconventional visuals but he is also well versed in creating and managing heavy greenery in architectural images. Angelo is the founder of Lucydreams, born as a blogger, he grew up teaching in training courses, but also post-production and lighting expert, with a strong passion for his work. As a result, each of us has an individual impact on the success of our images and plays an essential role.
They have worked with us
Giuseppe Lucisano / Diego Pasquini / Antonio Spataro / Sabrina Coletta / Angelo Talia / Fabrizio Gobbi / Francesco Rinaldi / Giovanni Savelli / Massimo Aquilino / Daniela Russo / Tommaso Dogliotti / Alessandro Trigila / Massimiliano Consolandi / Marco Cavanna / Luca Mattia Minciotti / Emanuele Serra
Join us
We are always looking for talented people that want to be part of our team. Send us a message to: info@lucydreams.it